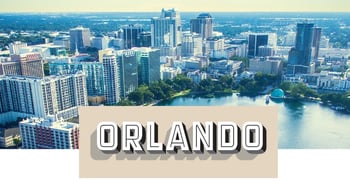 Orlando -- the most visited destination in the nation as well as the number one region for both job and population growth -- has been recognized as one of the "Most Dynamic Cities in America" by the Worth Group, an integrated media company recognized as a resource for high net-worth individuals and world-class brands.
Featured in the current summer issue of Worth magazine, Orlando is one of 15 "Worth Destinations" recognized for exceptional quality of life, tourism offerings, cultural offerings, business climate, entrepreneurial community and civic leadership.
"Over the past year, working with academics, experts and my editorial colleagues at Worth, we looked across the U.S. to identify and analyze the most dynamic cities," says Richard Bradley, Worth's editor in chief and chief content officer. "Orlando continued to rise to the top due to a quality of life that is a unique blend of three factors. It has well-established appeal as a tourism and entertainment powerhouse, a growing cultural scene and booming tech and new business development."
"Already we're known as the premier destination for first-class family entertainment, offering the best family-friendly offerings in the world, including luxury dining, shopping and accommodations," said Orange County Mayor Teresa Jacobs. "As the Worth destination designation indicates, our rich tourism offerings blend seamlessly with our entrepreneurial business environment to create a region that is innovative and inspiring for visitors and residents alike."
"We are honored to be selected as one of Worth's Most Dynamic Cities," said Orlando Mayor Buddy Dyer. "Orlando is known worldwide as a great place to visit, and this recognition also validates that we are also a great place to live and do business. It is a testament to our talented workforce, robust entrepreneurial ecosystem, business-friendly environment and high quality of life – all of which is created through a unique blend of business and tourism leadership."
Worth Destinations is the authoritative list of America's most dynamic cities, chosen for their quality of life and thriving entrepreneurial, economic, tourism, cultural and civic activity. Worth Destinations is a yearlong editorial exploration that will include 12 months of coverage on each of the Worth Destinations via digital, radio, broadcast and live-event channels.