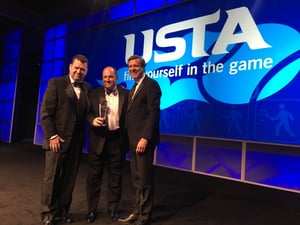 The Orlando EDC presented the United States Tennis Association (USTA) with the 2016 Newcomer Award at the annual Bright House Networks Regional Business Awards held at the Hilton Bonnet Creek.
"The Newcomer Award highlights our commitment to job creation and the betterment of our great community," said Orlando EDC Chair David Fuller during the celebration. "This award also gives us the opportunity to showcase a company that exhibits the upmost standard of excellence."
In April 2015, USTA broke ground on its "New Home of American Tennis" in Lake Nona. Set to open in late 2016, the project will create 196 new jobs over three years and bring more than $60 million in capital investment to the region. The facility will serve as the USTA's divisional headquarters for Player Development and Community Tennis and will house the largest tennis center in the world – big enough for a 102 court complex, training facilities, tournament courts, and corporate offices.
The EDC worked with the company for three years, strategized with company leaders, and facilitated a collaborative process with Tavistock Group, Lake Nona Medical City developers, Enterprise Florida and local elected leaders. USTA cites the region's ability to exhibit extraordinary collaboration as one of the major deciding factors in their decision to locate in Orlando. The location's proximity to the Orlando International Airport and the amenities that are available for visiting families of players also played a part in the final decision.
General Counsel and Managing Director of Business Affairs for the USTA National Campus, Dan Malasky, and Senior Director of Market, Facility Development and Collegiate Tennis, Virgil Christian, were both on hand at the Bright House event to accept the Newcomer Award.
Bright House Networks also gave awards in the catergories of small, medium, and large businesses and start up.