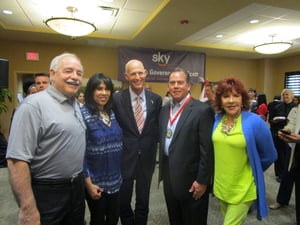 The timeshare and vacation ownership company, Club Trust, operating under the trade name staySky Vacation Clubs, announced it will expand its company and add 88 new jobs to its workforce. Florida Governor Rick Scott was on hand for the announcment at one of staySky's resort locations.
While staySky looked at locations in New York, Massachusetts, and Georgia to expand, they ultimately chose Florida as the best place to grow their hospitality and vacation business. Tourism is Florida's number one industry, and the state leads the nation in visitors annually with more than 97 million visitors in 2014, an increase of 3.9 percent over 2013.
John Gordon, CEO of staySky and Club Trust, said, "Nothing makes us happier than being able to provide our guests with the best vacations and service possible, and Orlando has proven to be a great destination to meet those needs. We are proud of the excellent work our team does every day, and we are excited to welcome these 88 new team members to Club Trust."

Enterprise Florida president & CEO Bill Johnson said, "Florida is uniquely positioned to benefit from being both a leading business destination and the number one tourist destination in the U.S. This expansion from Club Trust is a perfect fit for the company and the state, and we thank them for their expanded commitment to Florida."

The project was made possible through strong partnerships between Enterprise Florida, Inc., the Florida Department of Economic Opportunity, City of Orlando and the Orlando Economic Development Commission.

"We are extremely pleased that staySky Vacation Club has chosen to maintain and expand its international headquarters in the City of Orlando," said Orlando Mayor Buddy Dyer. "In addition to 88 new jobs available to our residents, the company's investment in newly acquired properties will continue to support and enhance the world class experience our City offers to our more than 60 million annual visitors."

"Club Trust's decision to expand in Orlando is a strong indication of our region's viability as a prime business location," said Rick Weddle, president and CEO of the Orlando Economic Development Commission.