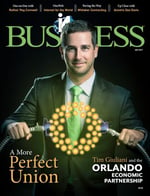 The Orlando Economic Partnership's new President and CEO is the focus of the cover story in the July issue of i4 Business magazine. The article "A More Perfect Union" describes how Tim Giuliani came to lead the organization and how the Partnership is shaping the region's economic and community development efforts following the merger of the former Orlando Economic Development Commission and the Central Florida Partnership.
"Central Florida's economic destiny recently took a step, better yet, a quantum leap, towards the 'what's next' in the region's future," writes Eric Wright, the magazine's managing director. Wright sat down with Giuliani for an in-depth interview focused on how Giuliani plans to tackle complex issues like job creation, broad-based prosperity and creating an innovation-based economy.
"We're a case study in Central Florida for diversifying the economy to include a strong agriculture and tourism base, but to also include technology and innovation, which is incredibly symbiotic," said Giuliani.
The article outlines Giuliani's career path, which started while he was still in high school and tapped to serve as state chair for the "Truth Campaign," a youth led tobacco-use prevention initiative. With a public affairs degree from Florida State University, Tim landed at a local chamber of commerce before moving on to a position at the Florida Chamber. He later returned to a local chamber, earning his MBA at the University of Florida along the way. It was Tim's next moves that solidified his foundation for leading organizations with a joint chamber and economic development model.
Giuliani was at the President and CEO of the Raleigh Chamber, near the Research Triangle, when he got the opportunity to return to his home state and lead the Partnership in Orlando. "My interest was primed," said Giuliani, "I wanted to make our local economy stronger and thereby make a better state. It was the opportunity to lead a regional organization and one that's on the right path."
To read the full article click here.