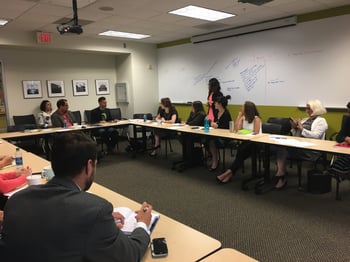 The Orlando Economic Partnership is remembering A Day of Love and Kindness by committing to volunteer and participate in the Orlando community. As an organization, the Partnership brought its members together to discuss how to honor and show solidarity with the Orlando, LGBTQ+ and Latinx communities.
The Partnership designated leaders within the organization to launch a volunteer task force to lead in meaningful conversations about how the organization could participate in A Day of Love and Kindness. The group also reached out to board member, community liaison and member of the One Orlando Alliance, Carlos Carbonell, to learn more about the current plans for A Day of Love and Kindness on June 12th.
Carlos explained that the One Orlando Alliance was working on a list of 49 simple ways to honor and support the victims and their families. These simple acts of love and kindness came directly from the mothers of the victims, and focused on simple and loving ways to give back to the community. These acts included everything from donating blood, thanking a police office for his or her service, adopting a pet, to volunteering at a local nonprofit or spending time with an elderly relative.
"Our community has come together like never before. In continuation of what Orlando and Central Florida showed the world after the tragedy, we will continue the spirit of love, unity and compassion toward one another even in the face of hatred. We will honor those taken from us at Pulse and forever remember them with kindness and love," said Carlos. "They cannot physically be with us, but we will give them a voice by standing up for one another, for every member of our community who needs our help, and by spreading positivity. I am honored to be part of the Orlando Economic Partnership family as a board member and proud that it is an organization that leads by example."
Our team decided that there were many different, individual ways of sharing acts of love and kindness with the Orlando community. Each member of the group then brainstormed ways that they could display love and compassion for the Orlando community. In the 49 days leading up to June 12th, our staff will display an act of giving and loving through simple good deeds around the community.
To learn more about the One Orlando Alliance and how your or your organization can participate in A Day of Love and Kindness, go to www.actlovegive.org.