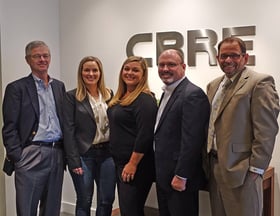 The Orlando Economic Development Commission (EDC) completed its first business development mission of the new fiscal year when a team, led by Bill Moss, the Co-Chair of the EDC Business Development Committee and senior managing director of CBRE, traveled to San Francisco Nov. 8-11. EDC Senior Vice President Dave Porter, EDC Director of Business Development Sheena Fowler, Enterprise Florida Vice President John Krug and Duke Energy Business Recruitment Manager Sarah Johnson all met with nine companies to educate them on Orlando's business climate. They also visited companies based in Northern California who recently established locations in Orlando.
Known as a major tech center, San Francisco was chosen as the business mission destination because of its similarities with Orlando's rapidly expanding tech hub. With a high operating cost and high cost of living in the Silicon Valley, the EDC staff highlighted some of the benefits and opportunities that come with moving a tech company to Orlando, including affordability, a talented workforce and robust talent pipeline.
Orlando has come to embody and embrace its tech scene, with roots that date back to the initiation of the space program and theme park industry. Organizations like the Orlando Tech Association and tech events like OrlandoiX, which debuted in Oct. 2015, highlight the recent growth of the industry. As technology has evolved, this sector has grown with a multitude of companies focusing on everything from software development to cybersecurity, game and app development and more. Orlando's tech economy is comprised of at least 80,000 employees and 2,500 companies with a rapidly expanding ecosystem, combined with constant innovation, that has made the Orlando region a tech friendly environment for startups and international corporations alike.
Driven by a superior quality of life, passionate creative culture and high value/low cost of operation, Orlando's dynamic tech industry continues to propel the innovative economy and show the world the "other half" of Orlando that they may not be familiar with.