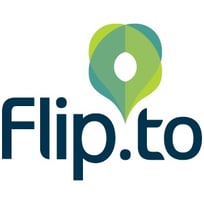 Flip.to, the advocacy platform for hotels designed to reach global audiences and have a measurable impact on a hotel's bottom line, is growing in Orlando. The company will create more than 80 new jobs in the region over the next three years.
Launched in 2010, Flip.to's mission is to help hotels earn new guests. That's done by tapping into a huge, authentic marketing force – hotels' current guests. With Flip.to, guests share compelling moments of their stay with their friends and family, giving hotels the ability to reach travelers worldwide.
"Our growth is because Flip.to solves a critical gap in the hotel marketing and revenue management ecosystem. We chose Orlando due to the hospitality and engineering talent in the area," said Edward St.Onge, President of Global Sales & Marketing for Flip.to. "Plus, when you add in a great quality of life, along with 300 days of sunshine a year, good things happen.""Orlando is continuing to be noticed as a hub for tech, with several expansions happening in the past few months," said Orlando EDC President and CEO Rick Weddle. "Flip.to is showing how innovation in software development helps contribute to further success in the region's world renowned tourism and hospitality industry."
The Orlando EDC worked with Flip.to to create connections with local education and workforce partnering organizations such as CareerSource Central Florida, Seminole State College of Florida and the University of Central Florida.
"Our services are becoming increasingly tailored to meet the growing needs of Central Florida's businesses and career seekers," said Pamela J. Nabors, president and CEO of CareerSource Central Florida. "We're doing that by helping bring Information Technology companies – which is just one of Central Florida's targeted industries – to our community. The addition of Flip.to to the business line-up will contribute to the overall success and growth of an already impressive Central Florida economy; we anticipate great success all around."
"Seminole State College, through the Quick Response Training (QRT) Grant program, is pleased to assist Flip.to as it expands its operations. This sustained growth will provide excellent employment opportunities for our region and for our graduates," said Seminole State College of Florida President Dr. E. Ann McGee.
"Growing companies such as Flip.to benefit our university community and our region in so many ways," said UCF spokesman Chad Binette. "They provide our talented students with more opportunities for high-tech internships and jobs and also generate additional research opportunities that benefit our students and faculty members as well as consumers."