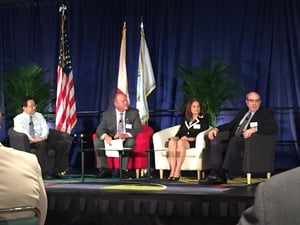 The Florida Simulation Summit, the first of its kind, was hosted by Orange County Mayor Teresa Jacobs and the National Center for Simulation, on Sept. 16 at the Orange County Convention Center. The event helped highlight Florida's growing simulation industry and identify new opportunities for businesses.
Orlando has long been a leader in the modeling, simulation and training (MS&T) in defense sector; however, many people outside of the region and even some within, do not fully understand its many applications and impact to the economy. The MS&T industry contributes more than $4.8 billion to Florida's gross state product and directly employs more than 27,000 Floridians with an average annual salary of almost $70,000.
The Central Florida Research Park, located next to the University of Central Florida, is the epicenter of the MS&T industry and fosters collaboration, cooperation and partnership between academia, industry and government.
Commercial simulation helps bring some of the area's most celebrated entertainment and attractions to life. It also is a crucil part of Orlando's world-class life sciences and healthcare industry, making great strides in medical research and training.
Attendees at the summitt had the opportunity to listen to and engage with simulation experts on topics ranging from entertainment, medical, education, transportation and emerging technologies. Summit speakers included Orlando Economic Development Commission President and CEO Rick Weddle and representatives from Lockheed Martin Commercial Flight Training, Universal Orlando, The University of Central Florida, Space Florida, Limbitless Solutions, EA Sports, Raytheon Co and Duke Energy.