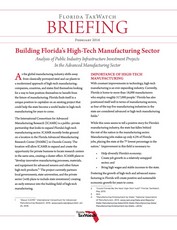 A new report by Florida TaxWatch, a non-partisan group that researches issues with statewide impact, outlines why Florida must diversify and strengthen its economy by making critical investments in high-tech and manufacturing. The TaxWatch analysis looks at the potential impact of a public infrastructure investment project in high-tech manufacturing in Florida, particularly focusing on the International Consortium for Advanced Manufacturing Research (ICAMR) in Osceola County.

While Florida is home to more than 18,000 manufacturing companies with over 317,000 employees, the state still falls behind the rest of the nation when it comes to the manufacturing industry. Manufacturing jobs make up just 4.2 percent of Florida jobs, putting the state at 43rd in the country. Additionally, Florida's tax climate, despite its positive reputation, is not focused on enticing manufacturing companies. An investment would help change that by creating basic infrastructure, facilities and tools to competitively secure state of the art manufacturers in Florida.

The already planned and under construction ICAMR offers Florida a unique position to boost the state's manufacturing industry and compete with other states like Texas and New York. Data shows that the establishment of ICAMR would result in 4,600 new high-tech jobs resulting in $403 million in earnings and a total of nearly 20,000 new jobs across various sectors would be created. This would result in $1.1 billion in earnings and would boost the local and state economy as $106 million in taxes would be collected over ten years.

By supporting ICAMR, not only would the state create high-paying jobs, but it would lead to additional expansion and private investments by various companies around the world. ICAMR is just one way Florida could establish itself as a world-renowned high-tech manufacturing hub, greatly diversifying and strengthening the economy and directly benefiting the Sunshine State and particularly the Orlando region.

Read the report here.