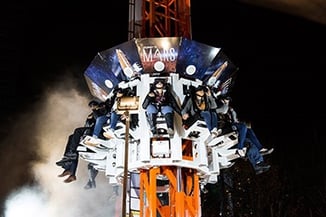 Photo courtesy of GES
If you're Houston-bound for the Big Game, be sure to visit the pregame festivities at Super Bowl Live presented by Verizon. There, Orlando will take center stage giving guests a one-of-a-kind, virtual reality experience. One of Orlando's top experience design agencies, IDEAS, worked in partnership with NASA, GES, ImaginNow, Exline Design and Architecture, and A.R.M to design the experience of a lifetime – the journey to Mars. The ride, which requires riders to wear VR goggles, allows guests to venture through the International Space Station, around the moon and the asteroid belt, all while they're strapped into a drop tower ride. The physical drop comes in to play towards the end of the adventure, but we won't give away too much of the fun.
Headed to Houston but football isn't your speed? Or just need some four-legged love? Animal Planet's Puppy Bowl XIII also has an activation at Super Bowl Live, so you can have the best of both worlds. This year, three of the event's sponsors, Pedigree, Subaru and Dish Network, chose Orlando as the backdrop for their ads, all of which feature some of the cutest stars around – rescue pups from the Pet Alliance of Greater Orlando, Florida Little Dog Rescue, and Animal Advocates of South Florida. Fueling Puppy Bowl XIII's puppy adoption mission, these cute four-legged stars reenact scenes from Rocky (Pedigree) and conduct general puppy tomfoolery (Dish Network) in various locations around the City of Orlando. We have yet to see the Subaru spots, but expect nothing but cuteness there, too.
All furriness aside, these commercials are more than just puppy play time. They are shining examples of why film productions are an important asset to the local economy. Over a span of five days, these projects spent money on local Orlando businesses including catering, car rentals, off-duty police, hotel stays, equipment rental, etc. in addition to employing over 20 local crew professionals who work full time in this industry. With the solid infrastructure of experienced workforce, supporting businesses such as equipment houses and studios, talented actors, a diverse backdrop of landscapes and architecture as well as the support of all our community partners, Orlando continues to be a top destination for commercial filming.
There are still a few commercials that were filmed locally that haven't been released yet so be sure to watch Puppy Bowl XIII on Sunday, February 5th to see them all. "Tail"gating starts at 2:00 p.m.ET with the Puppy Bowl Pre-Game Show. Puppy Bowl XIII kicks off at 3:00 p.m. ET. Don't worry if you miss it, it will be replaying for 10 hours.