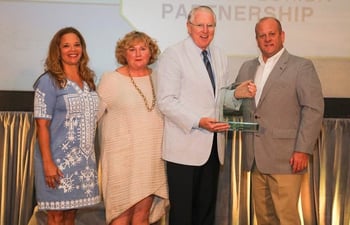 Leadership Florida, a statewide leadership identification and training program, presented the Orlando Economic Partnership with the Florida Regional Impact Award during the 35th Annual Conference in July. The Florida Regional Impact Award was established to recognize a business or non-profit organization whose specific project or body of work transformed the future of its region while also having the potential to transform Florida as a whole.
Jacob Stuart, advisor to the Orlando Economic Partnership President and CEO and Regional Ambassador, accepted the award at the annual conference. "The Central Florida Region is forever linked to the state of Florida and as a result, the work of Leadership Florida is critical to our shared success," said Stuart.
The annual conference also showcases the graduates of the most current class of Leadership Florida and formally presents the new President and CEO, Wendy Spencer. More than 400 professionals representing all parts of the state attended the conference.
Leadership Florida has developed a reputation as a builder of a stronger statewide sense of community. As a respected non-partisan convener of committed individuals, Leadership Florida enhances the knowledge and abilities of Florida's leaders through educational programs and collaborative work. "Leadership Florida provides Floridians essential information and a meaningful forum for their opinions, and creates opportunities for shared experiences that are inviting, inspiring and of lasting value," added Stuart.