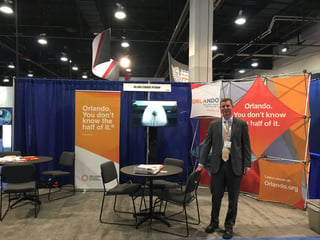 The Orlando Economic Partnership exhibited at the National Business Aviation Association (NBAA) Convention and Exhibition from October 10-12, 2017 in Las Vegas. The show featured over 1,100 indoor exhibitors and 27,000 business aviation professionals. The Partnership generated three high quality leads and one business development project.
The aviation and aerospace industries are critical targets for the Partnership's economic development efforts. From its origins in the defense cluster, Orlando has grown into a significant hub for aviation-related companies, especially for aviation training facilities. The region provides companies with a critical talent pipeline for air-transportation related degrees from schools like the University of Central Florida, Embry-Riddle Aeronautical University, and Polk State College.
The Partnership actively works to attract companies from high-growth industries, cultivating these sectors and diversifying the region's economy. Learn more about the Orlando Economic Partnership, its mission and how to get involved here.