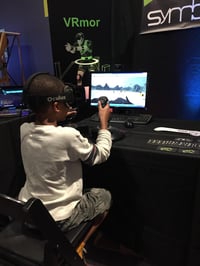 The Orlando Electronic Interactive Entertainment Convention, known as OTRONICON, returned to the Orlando Science Center January 15-18, 2016 showcasing the science, art and technology behind the innovative fields of simulation, robotics, videogames, digital media and virtual reality.
The four-day event, now in its eleventh year, gives guests an inside look at Orlando's state-of-the-art gaming and simulation technology industries that include military and medical simulations. The engaging displays ignite interest in students for careers in science, technology, engineering and math (STEM) through these innovative industries and demonstrations.
Events like OTRONICON help recruit and retain qualified talent to the Orlando region by establishing an early connection with students and proving that STEM fields are not only fun, but also viable career paths that are available right in their backyard.
Orlando is one of the largest digital media and simulation clusters in the country with more than 2,000 companies and roughly over 30,000 employees creating technology that is continually shaping all aspects of the economy. Industry-leading companies like EA, Lockheed Martin and the Walt Disney Company located in Orlando are featured attractions at OTRONICON.
While OTRONICON brings together the world of consumer video games with a behind-the-scenes view of both the foundation and future of the videogame and simulation industries, it's designed as an event for people of all ages and interest with a range of opportunities to explore.