Orlando EDC President and CEO Rick Weddle spoke at the Osceola County Economic Summit in April and focused on the upcoming Florida Advanced Manufacturing Research Center (FAMRC) and its related International Consortium for Advanced Manufacturing Research (ICAMR). Weddle was joined by elected leaders and University of Central Florida technology experts to discuss how the center will become a world leader in smart sensor technology and manufacturing.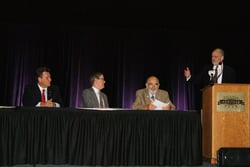 ICAMR, a 100,000 square foot facility scheduled to open in 2016 will be an open innovation platform that will provide manufacturing solutions to industry partners that accelerate the commercialization of new technologies, coordinating business and economic development with the goal of generating unprecedented growth in partner company revenues and high-tech job creation in Florida.

"Industry goes where it's invited and stays where it's welcomed," said Weddle. "This is an infrastructure project, it will support a whole new cluster of economic activity. It will forever change the economic landscape of your community and our region."

M.J. Soileau, UCF's vice president for Research and Professor of Optics, said "This project will pull together the entire food chain of manufacturing," said MJ Soileau, UCF vice president for research and professor of Optics. "The ultimate goal is to secure a robust supply chain that allows globally competitive manufacturing to be done in the U.S."

The advanced sensors that emerge from the research will eventually power "the Internet of everything." View this

download

for more information on ICAMR.