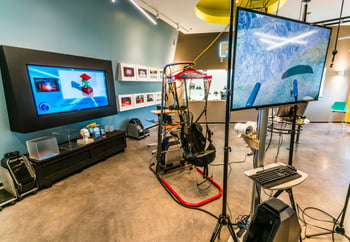 Orlando's growing expertise in the areas of virtual and augmented reality are the focus of two recently published stories that can be found by online audiences all around the world. "The Unreal, Bleeding-Edge Tech that's Helping Doctors Make The Cut" appears in Fast Company and explores how facilities in Orlando are transforming how physicians are trained by utilizing virtual reality as a cost effective and more thorough hands-on learning experience. The second piece, in Quartz's digital news site, highlights Full Sail University's Fab Lab in "A Florida University is Making Quidditch a (Virtual) Reality."
Both pieces were written by Alice Bonasio, a freelance tech-writer, after she toured the "other half" of Orlando with the Orlando Economic Partnership. Her articles dive into virtual reality developments made in Orlando and the impact on future advancements. The locations Bonasio visited included showcase Orlando's flourishing innovative technology industry including SimLearn, the Veteran's Health Administration's health care training facility that utilizes virtual reality as a teaching tool for surgeons and doctors. She also visited Full Sail University and met with Pat Starace, the director of a digital fabrication course at Full Sail University and developer of a virtual reality game.
Bonasio commends Orlando's thriving virtual reality scene, attributing it to Full Sail's Simulation and Visualization Bachelor Program. She writes, "the city has more than 100 companies working in the simulation sector, and the VR boom is continuing to gain momentum."
Check out more of Bonasio's articles about Orlando's tech scene. Here you can read about VR in Orlando's theme parks and Full Sail University's VR Program.