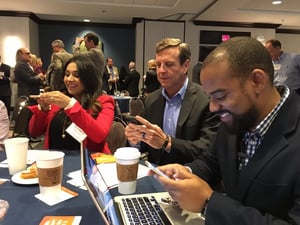 Now more than ever, Orlando's tech scene is exploding into a thriving, bustling epicenter for innovation and creative tech fueled by Orlando's diverse clusters of game, app and software development; modeling, simulation and training; healthcare IT; fintech and more.
Orlando's tech scene was the focus of the Orlando EDC's April "Insider Update" which featured a panel discussion with Orlando Tech Association Executive Director Orrett Davis, Fattmerchant Founder and CEO Suneera Madhani, and Co-Founder and CEO of Trobo the Storytelling Robot Jeremy Scheinberg. The event was held in conjunction with Orlando Tech Week, an annual showcase of technology, creativity and entrepreneurial clusters that connects thought leaders from a variety of sectors over the course of a week with guest speakers, workshops, meetups and other events.
"Orlando is one of the few places where you can come in and have an impact on the community on day one," said Davis during the discussion. "You're never more than two connections away from anyone that you want to meet here."
Orlando's tech employment growth is surging at 11.8 percent annually according to the JLL Technology Office Outlook report. This number puts Orlando as the 5th top market in the nation for tech employment growth (ranking only behind San Francisco, Austin, Las Vegas and New York City) and among the top 25 tech markets overall in the U.S.
"I don't want to go to Silicon Valley," said Madhani. "The talent is here in Orlando and the support is here." Madhani started Fattmerchant in 2014 and has consistently grown her merchant services business.
Scheinberg said, "The future of tech is in bridging the physical and digital worlds." His company was recently featured on the TV show "Shark Tank" and in the past has received a grant from the National Science Foundation for the plushy robot that reads digital storybooks about Science, Technology, Engineering and Math (STEM).
The "Insider Update" kicked off with a tech company announcement: Topps Digital Apps, a mobile game app division of the classic sports company Topps, is establishing an office in Orlando and will create 16 new jobs. The project will also have a $145,000 capital investment in the local community.