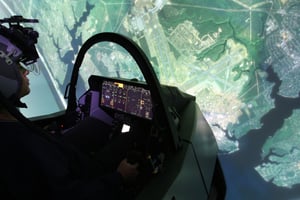 Orlando is recognized as the Modeling, Simulation & Training (MS&T) capital of the world – so it is no surprise that I/ITSEC, as the world's largest MS&T conference, chooses Orlando to host nearly 15,000 industry, academia and government attendees each year. Over 300 companies will exhibit at I/ITSEC, over a third of which (93 exhibitors) have a business presence in Orlando.
In 2016, Orlando-based companies secured billions in contracts involving modeling, simulation and training (MS&T). On an annual basis, $4 billion simulation contracts flow through the region. Some significant highlights of simulation contracts in the Orlando region include:
Lockheed Martin landed a $424 million contract in May 2016 to support U.S. Navy operations to develop a target and threat simulator. Raytheon was awarded a nearly $351 million contract that month by the U.S. Army's Orlando-based Program Executive Office, Simulation, Training and Instrumentation (known as PEO-STRI) for its range tracking and imaging system.
In October, Lockheed Martin's mission systems and training division was awarded a $20.5 million contract from the U.S. Air Force to upgrade a simulated flight trainer for a military grade transport aircraft. Orlando-based Advanced IT Concepts (AITC) was awarded a nearly $70 million contract from the U.S. Army for Medical Simulation Support Services (MS3) to support the U.S. Army Product Manager for Medical Simulation at PEO-STRI in providing procurement and logistics services for medical-based simulation training.
The Orlando region supports a thriving MS&T ecosystem through its academic institutions, associations, industry partners and military defense entities. Critical organizations like the National Center for Simulation and TEAM Orlando foster connections between the military, government, MS&T related companies, and higher education.
A large reason that many defense companies choose Orlando is the proximity to the University of Central Florida (UCF), which produces more graduates hired into aerospace and defense companies than any other university in the nation. UCF's Institute for Simulation and Training works closely with Orlando's MS&T industry and military partners, providing a steady talent pool necessary for taking on large government contracts.
Visit the Orlando EDC and its partners at Booth 2011 to learn more about the valuable resources and partnerships that Orlando offers the MS&T industry, and discuss how Orlando's ecosystem can support your business. To schedule a meeting at the conference, please contact Casey Barnes, Vice President of Business Development, at Casey.Barnes@OrlandoEDC.com.