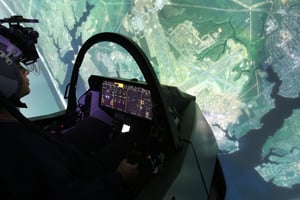 Orlando is recognized as the Modeling, Simulation & Training (MS&T) capital of the world – so it is no surprise that I/ITSEC, the world's largest MS&T conference, chooses Orlando to host nearly 15,000 industry, academia and government attendees each year. Over 300 companies will exhibit at I/ITSEC, over a third of which have a business presence in Orlando.
Orlando-based companies and organizations secure billions in contracts involving MS&T. On an annual basis, $4 billion modeling, training and simulation contracts flow through the region. Orlando is home to top players including Lockheed Martin, Raytheon, and AITC, just to name a few. And thanks to important organizations like the National Center for Simulation and TEAM Orlando, the region is an ambitious playground for collaboration between academic institutions, business partners and military defense organizations.
Some significant highlights of MS&T contracts in the Orlando region in 2017 include:
A large reason that many simulation and defense companies choose to opreate in Orlando is the proximity to UCF, the second largest university in the nation and one of the top engineering schools in the U.S. UCF's Institute for Simulation and Training works closely with Orlando's MS&T cluster and military partners, providing a steady talent pool necessary for taking on large government contracts.