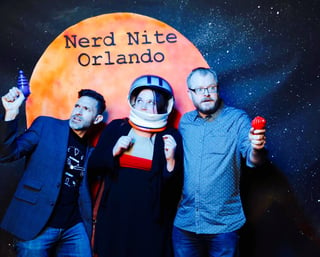 Writers for some of the biggest names in online news sites visited Orlando for an intensive two-day tour of some of the region's most innovative companies, educational institutions and tech-focused events.
Concentrating on augmented reality and virtual reality, journalist Alice Bonasio and photojournalist Tom Atkinson explored Orlando's booming tech scene for their Tech Trends reports. "A lot of Orlando companies are pushing the envelope in VR and AR," wrote Bonasio after seeing EA Sports, Advanced Micro Devices, Augment, Falcon's Creative Group and start-up Launchable. "Disney World and co. might be what most of us associate with Orlando, but what you don't often realize is how the technology pioneered by all those theme parks – together with the region's strong military and space exploration tradition – have turned this friendly town into the simulation capital of the world," she continued.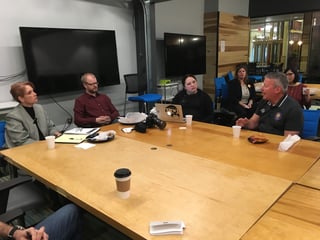 Bonasio's full story also highlights her experiences at Full Sail University's Fab Lab and Otronicon, the Orlando Science Center's annual interactive technology expo. Bonasio and Atkinson (pictured above with Echo CEO Carlos Carbonell) even attended Orlando Nerd Nite - a monthly meet-up where speakers present a variety of subjects in unconventional ways.
Beverly Macy, based in Los Angeles, also spent time at Otronicon experiencing the creations of Lockheed Martin, Disney and Bohemia Interactive. Macy's Invent-In-Place series on Orlando highlights her insight into the USTA campus in Lake Nona and its use of sportstech innovations like PlaySight.
The journalists, whose works have appeared in the Huffington Post, Wired and Fast Companies, both reported that the Orlando region can be counted among the world's top locations for the development of high-tech inventions.