October kicked off with the inaugural tech convention, OrlandoiX, attracting people from across the country to come together for five days of learning, playing, connecting and digital innovation. The event, held at the Orange County Convention Center from October 2-6, brought together creative technologists from gamers and entrepreneurs, to Orlando-based companies like IZEA, Maker Studios and Ideas and even multinational corporations including the Coca-Cola Company, NFL and Dell.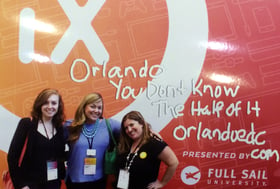 The Orlando EDC joined partners including the Orlando Tech Association, Full Sail University and OUC – The Reliable One for the informational booth and demonstration side of the convention.
The event featured 96 speakers, 134 exhibitors, 5,600 attendees and 10.7 million social media impressions.The main topic of the weekend panelists and speakers was technology, but the platform varied from day to day. Over the five days, experts provided input on their respective areas of tech. The NFL, for example, showcased its new technology to monitor a players' health during games and practices.
The convention not only set the stage for tech companies and innovative ideas for and entrepreneurs, but also provided marketing and business models for anyone working in-house, B2B or B2Cstart ups.