The region added 47,200 jobs year-over-year with 500 jobs in April, driving unemployment to its lowest level in nearly seven years. Growth in office-using employment is extending recent momentum.
Gains Broad-Based
All 12 of the Orlando region's reported sectors registered year-over-year gains, supporting overall year-over-year growth of 4.3 percent. Unemployment fell 0.3 percentage points to 4.9 percent, its lowest level since May 2008.
Office Employment Sustains Momentum
The addition of 1,000 office-using jobs in April, in the business services, financial and information sectors, confirmed a growth trajectory that now exceeds the larger market. Employment in office jobs has grown 5.4 percent in the last 12 months, significantly above the 4.3 percent recorded market wide.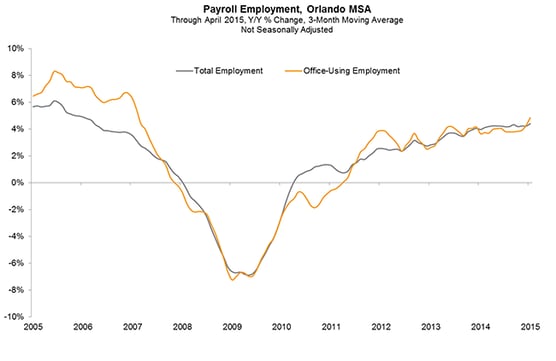 Source: U.S. Department of Labor, Bureau of Labor Statistics
The dynamics underpinning the expansion of office employment have evolved. Office employment was generally slow to recover post-recession, overshadowed by growth in more nimble, consumer-driven sectors. A 2012 spike was then largely the product of gains in temporary employment as still-hesitant office users turned to staffing agencies. However, the last two years have ushered in more genuine growth, most notably with a recent uptick in professional and business services. The sector has added 10,500 jobs in the last 12 months.
Translation into Office Absorption Still Elusive
Total office employment in Orlando now exceeds its pre-recession peak by 10,600 jobs, However, that growth has yet to fully produce tangible gains in the office market. Approximately 52 percent, or 1.6 million square feet, of the office space surrendered since 2008 remains vacant.
The departure from this historic relationship is reflective of changing trends in the office market. Regional employers are following a national trend and moving toward more dynamic and efficient footprints, or using remaining shadow space to absorb new employees. Exactly when continued strong growth in employment will spark genuine office absorption remains unclear.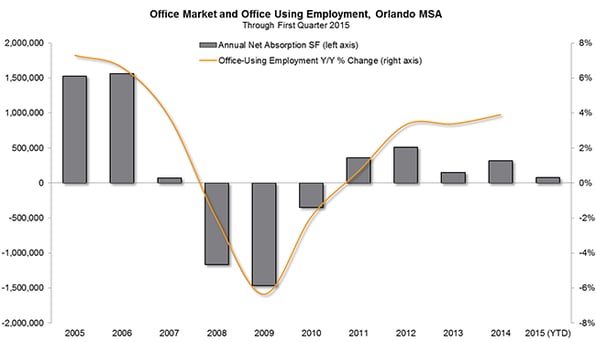 Sources: Cushman & Wakefield; U.S. Department of Labor, Bureau of Labor Statistics
Leading the State - Again
As with total employment, recovery and expansion of Orlando's office employment exceeds other prominent Florida regions. While Miami and Jacksonville have regained all office employment, they have done so at a slower pace than Orlando. Tampa has yet to fully recover.

Source: U.S. Department of Labor, Bureau of Labor Statistics