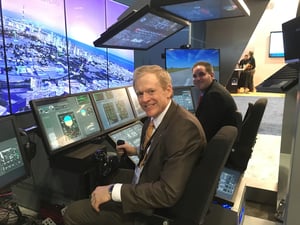 While the world is preparing for the coming Holiday season, the sky-shattering sounds of jet engines and the gentle hum of tactical Humvee vehicles signaled another season in Orlando – the Modeling, Simulation and Training (MS&T) season. On Nov. 30 through Dec. 4 the Interservice/Industry Training, Simulation and Education Conference (I/ITSEC) filled the halls of the Orange County Convention Center with the latest simulated training efforts from around the world.
For nearly 40 years, I/ITSEC has brought together leading companies and organizations in the MS&T industry from across the globe to foster collaboration among the armed services, business community, academia and various government organizations, with a goal to improve training and education programs through technological innovations. As the world's MS&T conference, I/ITSEC has been held in Orlando since its infancy solidifying the region as the Modeling, Simulation and Training capital of the world.
Orlando's MS&T industry was launched in the mid-1960s when the Naval Training Systems Center chose to locate to the region from Long Island, NY. Since then, the region's MS&T cluster has evolved from its roots in essential military training to creating innovations that permeate every industry. From aviation and entertainment to medical technologies and transportation, each business sector has been touched by simulated technologies.
These deep roots in the MS&T industry was the impetus for the formation of the National Center for Simulation, as well as the creation of the Central Florida Research Park, which is one of the world's top 10 research parks and comprises more than 100 high tech companies. The close proximity of the University of Central Florida has formed the backbone of Orlando's MS&T education, offering graduate studies in the field as well as establishing the Institute for Simulation and Training (IST).
With conferences like I/ITSEC, the presence of a strong cluster and the exponential growth of surrounding educational institutions, Orlando is poised to be a world leader in the MS&T industry for years to come.