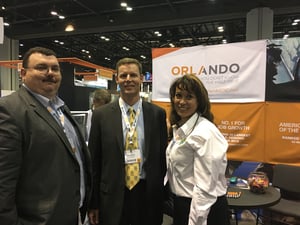 The Orlando region was well represented at the world's largest business aviation conference - the National Business Aviation Association's (NBAA) Business Aviation Convention & Exhibition - Nov. 1-3 at the Orange County Convention Center. The Orlando EDC hosted a booth in partnership with Lake County and the City of Sanford located across from the Enterprise Florida booth. One aisle over, the City of Kissimmee and Kissimmee Gateway Airport also had a booth.
The event brings together over 27,000 industry professionals from around the globe.
The show resulted in at least three leads and at least one project for the EDC. Casey Barnes, vice president of business development, shared his insight about industry developments with Florida Aviation Network Host John McLeroy during an interview that focused on why Orlando is a "top gun" in the aviation industry.