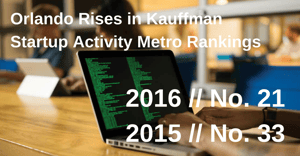 Orlando saw the biggest jump in rank in this year's Kauffman Index of Startup Activity State and Metro Trends report of any other large metro area. The Orlando region landed at the No. 21 spot, up significantly from last year's ranking of No. 33. This jump was the highest in rank out of all of the metro areas ranked by the index indicating an increasing pace of growth in the Orlando startup community.The Kauffmann metro rankings, released by the Ewing Marion Kauffman Foundation, compares 40 metro areas for startup density, the rate of new entrepreneurs, and the percentage of new entrepreneurs driven primarily by opportunity versus necessity. This year, the percent of new entrepreneurs in Orlando increased from .16 percent to .22 percent and the opportunity share of new entrepreneurs rose from 72.65 percent to 78.34 percent.The Orlando region is home to top entrepreneurial resources that include:
All of these resources can be considered contributing factors in Orlando's jump in the Kauffman ranking.
The state of Florida also ranked high for startup activity, securing the No. 2 spot out of all 50 states.