A more diversified Orlando is the only Florida region to place in a list of the country's top 10 regional job creators.
Flying Solo
Last week's release of July employment data underlined the emergence of the West as the nation's most vibrant region entering late 2015. While cities in California, Oregon and Washington are all riding tech-related employment gains, only Orlando, among the South's major regions, features prominently in a list of the nation's top 10 growth centers.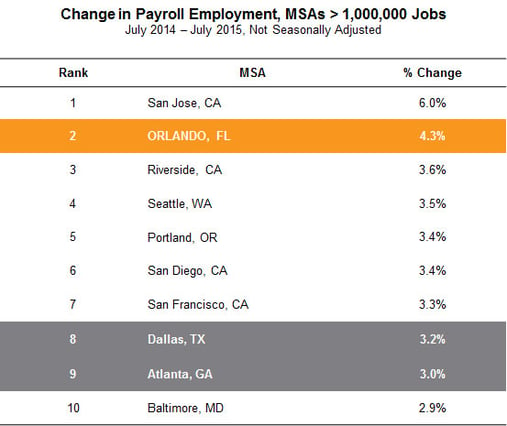 Source: U.S. Department of Labor, Bureau of Labor Statistics
No other Florida region places in the list. Elsewhere in the South, Dallas and Atlanta squeeze in at eighth and ninth respectively.
Slow and Steady Wins the Race
Most large regional economies started to recover jobs in early 2010, six months after the official end of the recession. Since then, only Houston, among the South's largest cities, rivals Orlando in total employment growth. The primary beneficiary of an oil-related boom that has since waned, Houston's growth has tapered. Orlando, by contrast, has maintained the same almost linear trajectory throughout and has added 177,500 jobs since the turn of the decade, an increase of 18 percent or enough to employ every worker in Lake County.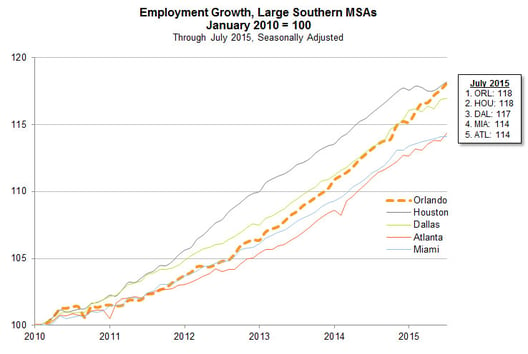 Source: U.S. Department of Labor, Bureau of Labor Statistics
Party Like it's 2005?
Orlando's net job creation includes 48,200 in the last year and 27,900 from the turn of the year. The region now needs to add an additional 22,900 jobs over the remaining five months of 2015 to register its highest annual job growth in a decade. As hiring picks up across all sectors in a growing economy, and as infrastructure projects take hold, that number appears within reach at the current average of 4,000 net new jobs per month.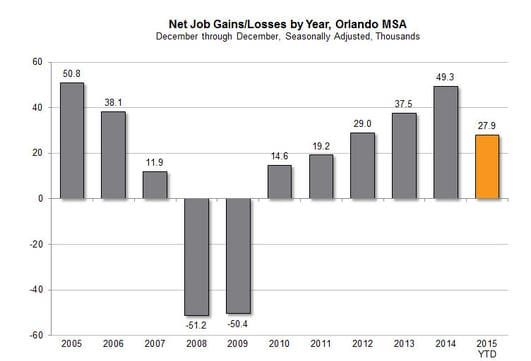 Source: U.S. Department of Labor, Bureau of Labor Statistics
One key difference exists between now and then. The run-up of residential construction accounted for almost 20 percent of all employment growth during the last expansionary period and ultimately led Orlando into above-average decline. While still a disproportionate contributor at seven percent of net job creation since 2010, today's construction sector is more diversified and less prominent moving forward.