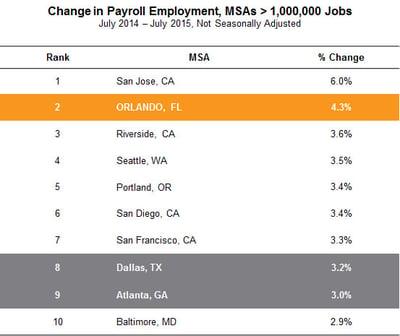 Orlando was ranked as the No. 2 major region in the U.S. for job growth, according to last week's release of July employment data. The region was the only Florida MSA to earn a spot in the list of the country's top 10 regional job creators.
While the data emphasized the growth of the West as the nation's most vibrant region, Orlando was also one of only three regions in the entire South highlighted in the top 10 of the nation's growth centers.
After most large regional economies began recovering jobs in early 2010, Houston remains the only other large southern city to rival Orlando in total employment growth. The oil-related boom has since slowed along with Houston's growth while Orlando has maintained the same almost linear trajectory throughout, adding 177,500 jobs since 2010.
Orlando's net job creation includes 48,200 in the last year and 27,900 from the turn of the year. The region now needs to add an additional 22,900 jobs over the remaining five months of 2015 to register its highest annual job growth in a decade.
With hiring picking up across all sectors in Orlando's growing economy and infrastructure projects taking hold, that number appears achievable with the current average of 4,000 net new jobs per month.