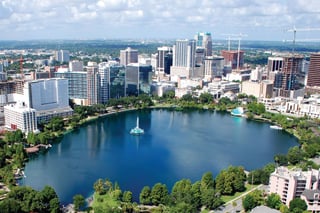 KPMG LLP's 2016 Competitive Alternatives study named Orlando the No. 2 most cost-competitive location in the U.S. among large cities in its yearly analysis of metropolitan areas. KPMG LLP is an audit, tax and advisory firm. The study was conducted among the 31 largest U.S. metro areas with populations of two million or more.
The Competitive Alternatives study also provides insight into business location costs and serves as a benchmark for business executives when considering sites for business expansions or locations. The study measured 26 key cost components, as they apply to various business-to-business and manufacturing operations, including costs associated with taxes, labor, facilities, transportation and utilities.
Orlando had a cost index of 94.4, only 0.4 higher than the number one location of Cincinnati. Orlando's business costs came in at 5.6 percent below the national baseline of 100. Orlando has the second lowest labor costs as well as low lease costs, both of which helped boost Orlando into second place overall.
Revised data recently released by the U.S. Department of Labor also revealed that Orlando led the nation in job growth with 52,200 jobs created in the 12 months ending in December 2015. Employment growth in 2015 came in at a 4.6 percent, making Orlando the fastest-growing of the 30 regions in the country with an employment base of at least one million jobs.
Click here to read the full study by KPMG.