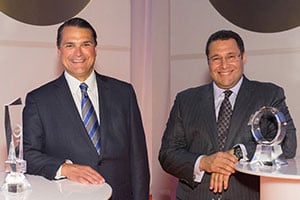 The Orlando Economic Development Commission (EDC) hosted a successful 2015 James B. Greene Annual Award dinner on April 9 with more than 500 attendees. Event highlights included the presentation of the James B. Greene Award to Alex Martins, chief executive officer of the Orlando Magic. Martins, who has spent 27 years in professional sports management, was instrumental in securing the state-of-the-art Amway Center, which was named the 2012 SportsBusiness Journal's "Facility of the Year" and received the 2013 StadiumBusiness "Customer Experience Award."
"Alex has touched the lives of so many and has helped make Orlando what it is today," said Tom Sittema, Orlando EDC board chair and CEO of CNL Financial Group. "Never one to sit on the sidelines, he is passionate about our community and about bringing out the very best in those around him."
During his time in Central Florida, Martins has held several significant roles in the local community. He served as the Chairman of the Orlando Economic Development Commission, and on the board of directors for the Orlando Magic Youth Foundation, Visit Orlando, Florida Children's Hospital, Coalition for the Homeless, the Central Florida Commission on Homelessness, the Dr. Phillips Center for the Performing Arts and the Past Chair of the Central Florida Partnership. He is also on the University of Central Florida board of trustees. You can view Alex Martins' tribute video here.
A Chairman's Award was also given out this year to Ken Potrock, senior vice president and general manager of Disney Vacation Club and Adventures by Disney. The EDC Chairman's Award, first presented in 2007, recognizes a long-term contributor to the work of the Orlando EDC.
"Ken led a 40 member regional branding committee made up of top branding strategists from Orange, Lake, Seminole, and Osceola counties and the City of Orlando," said Sittema. "He's tireless in his efforts to bring focus to all the wonderful things our region has to offer and ultimately to bring jobs to our community."
Potrock leads Disney's innovative vacation-ownership program, Disney Vacation Club, and also the company's guided group travel business, Adventures by Disney. Potrock began his Disney career in 1996 and has held various leadership roles, including vice president of marketing for Disney Cruise Line, senior vice president of Global Alliance Marketing and senior vice president of Disney Sports Enterprises and Downtown Disney. He currently serves as the President of Florida Citrus Sports and on the Executive Board of the EDC, where he chairs the branding committee. You can view Ken Potrock's tribute video here.
Photos from the event, highlighting the night's most memorable moments, can be found on the Orlando EDC facebook page.