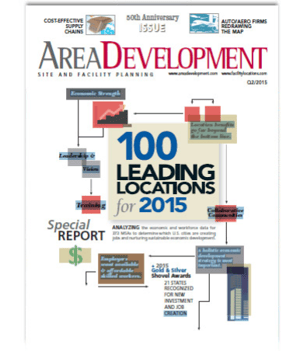 The Orlando region received the highest ranking in the State of Florida for 'Leading Locations for 2015' in Area Development's most recent study on economic development, ahead of other major cities such as Jacksonville and Miami.
Area Development, a leading executive magazine covering corporate site selection and location decisions, studied economic and workforce data for 373 metropolitan statistical areas (MSAs) to establish which U.S. metros are growing and sustaining economic development.
"The Orlando region is continuing to invest in the current and future workforce, as well as developing major infrastructure and fostering a positive business climate," said Rick Weddle, president and CEO of the Orlando EDC. "We're very excited the region earned this esteemed ranking of the highest city for economic success in Florida."
Orlando, which ranked No. 18, established its high ranking based on four major categories –economic strength, year-over-year growth, recession-busting attributes and workforce.
With a labor force of over 2 million workers, the Orlando region is becoming a top location for businesses ranging from corporate and regional division headquarters, product manufacturing and high tech research.
Area Development emphasizes the big benefits in locating in areas like Orlando with track records of economic growth because these MSAs not only understand how business works, but have the leadership and vision to cultivate sustainable economic development year after year.
To see the full list, click here.