The Orlando region added 44,000 jobs year-over-year with 2,100 jobs in May, driving the number of unemployed people down to 63,191. As unemployment falls, Orlando is experiencing an increase in real-time labor demand as evidenced by new online job ads.
Gains Across All Sectors Continue
All of the Orlando region's reported sectors registered year-over-year gains, supporting overall year-over-year growth of 4.0 percent. The growth in office-using employment reported last month continued through May with a 4.0 percent year-over-year increase. Unemployment increased by 0.3 percentage points to 5.2 percent, but still remains one the lowest rates in seven years.
Job Postings Surge
In the last 12 months, the unemployment rate fell 0.7 percentage points. The pool of people available and looking for work shrunk by more than 8,800 or 12.3 percent. This decrease in supply coincides with increased labor market demand, measured in real time via online job postings.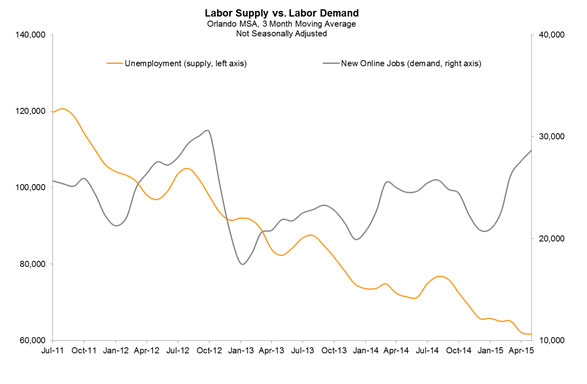 Source: WantedAnalytics; Florida Department of Economic Opportunity, Local Area Unemployment Statistics (LAUS) – May 2015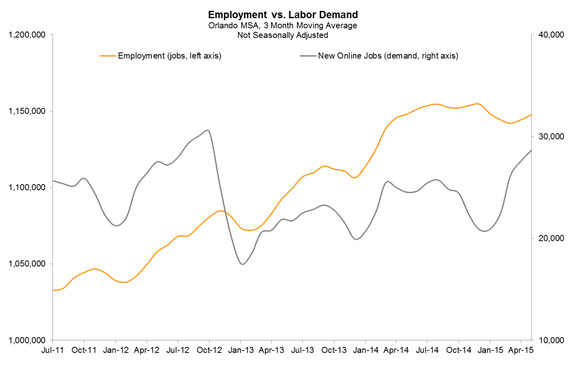 Source: WantedAnalytics; Florida Department of Economic Opportunity, Local Area Unemployment Statistics (LAUS) – May 2015
Even beyond the seasonal fluctuations, there is evidence of an upward trend in real time labor demand. From the beginning of 2013 to May 2015, the number of new job postings per month has nearly doubled. Just this year, more than 134,700 jobs have been posted, 8.2 percent more than the corresponding period of 2014.
Actual employment growth has tracked with new online jobs for much of the last three years. Orlando's year-over-year job growth of 4.0 percent continues to surpass almost every MSA with more than one million jobs. In April 2015, Orlando's employment growth rate was the second fastest in the nation, just behind San Jose, California.
Who Is Behind The Hiring?
A list of Orlando area companies with the most new online job postings reflects recent changes in the nature of Orlando's recovery. In May, the hospitals, accommodation, and professional and technical services sectors, all recorded year-over-year growth of 4.9 percent, 3.5 percent and 9.2 percent respectively.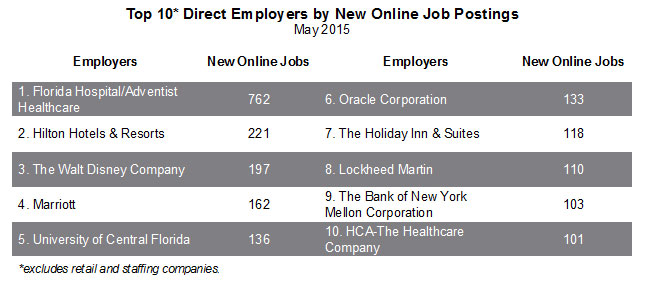 Source: WantedAnalytics, Hiring Demand Dashboard App – May 2015
Healthcare occupations remain in high demand and make up 2,432 of the 26,807 jobs advertised or 9.1 percent. There is nearly as much demand for computer occupations, 8.7 percent of jobs posted. The highest demand is for sales and related occupations with 3,498 jobs posted in May.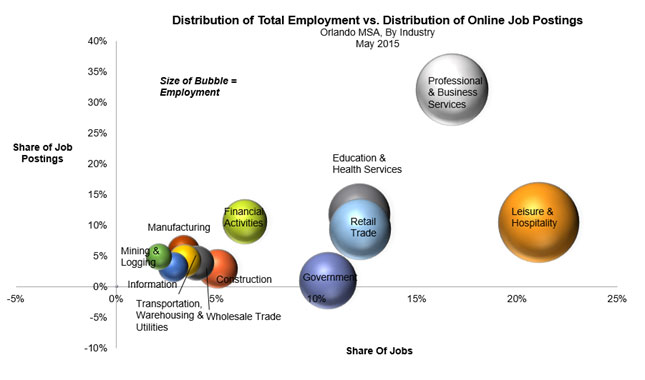 Source: WantedAnalytics; Florida Department of Economic Opportunity, Current Employment Statistics (CES) – May 2015
Analyzing job postings in comparison to industry employment reveals that while the professional and business services industry only employs 17 percent of the workforce it accounts for 32 percent of new job postings. Conversely, leisure and hospitality employs 21 percent of the workforce but only posts 10.4 percent of jobs. The disproportionate share of industry employment compared to jobs posted in industries such as construction, government and retail trade, may be due to industry specific recruitment and hiring methods that are not captured in online job boards.
With 62 million visitors per year, there will always be a significant percentage of the Orlando workforce employed by the leisure and hospitality industry. However, the increase in demand for other high wage occupations is a positive sign of the growth and prosperity of the regional economy.