2017: Orlando Expects
Orlando's economic prosperity gained significant momentum in 2016.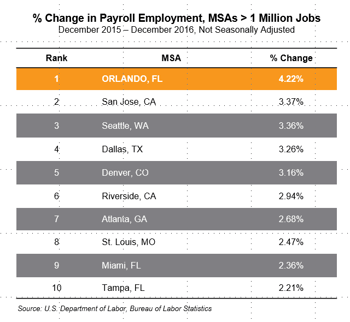 Economic development successes came early and often. Early in the year, newcomer Deloitte, after hiring 1,000 new workers in record time, began drawing up plans to add an additional 850 jobs. In July, global HR provider ADP announced the opening of a new office in Maitland, creating up to 1,600 jobs. By December, all eyes had shifted to Lake Nona as the USTA prepared to open its new National Campus, and then KPMG announced plans to build a $430 million global training facility.
"Orlando finished 2016 with significant momentum that will continue to drive an economy that continues to lead in job creation. Billions of dollars of new and ongoing large scale public and private investment projects provide fuel to the region's economic engine that should keep it humming through 2017." said Sean Snaith, Ph.D., chair of the Orlando Economic Forum and Director of the UCF Institute for Economic Competitiveness.
The slow trickle of year-end data brought the exclamation point many sought. Unemployment closed 2016 at its lowest level in a decade; Orlando International Airport (MCO) posted its highest annual passenger total on record for the second consecutive year; and in employment terms, the region ended 2016 exactly as it began – as the fastest-growing large region in the country.
A sense prevails, however, that Orlando's best is yet to come – that for all its recent success, the region enters 2017 finally ready to transition from its status as an emerging region of the future to a world-class region of the present.
Improving The Product
For several years, Orlando has been quietly laying the foundation for future quality and balanced growth. That foundation can be seen all around us – crews are at work on a $2.3 billion 1-4 Ultimate Project overhauling 21 miles of the region's key transportation corridor, MCO's $1.1 billion expansion will bring the north terminal's capacity to 45 million annual passengers, and Orlando Sanford International Airport will soon kick off a $43 million expansion project to add new gates, baggage carousels and security lanes. It is an investment in infrastructure that when complete will enhance Orlando's competitive offering to the world for generations to come.
Yet even long-range planning benefits from short-term victories and 2017 will bear the first fruits of this multi-year investment strategy. In March, Orlando City Soccer Club will open the doors to its new $155 million soccer stadium, adding another element to downtown's emerging live-work-play environment. Just a few weeks later, BRIDG at NeoCity, the world's first industry-led consortium for smart sensors, will open in Osceola County, embedding the region firmly at the center of tomorrow's economy. Both developments will only add to the narrative that Orlando is a community on the move.
The Perfect Storm
At the same time, community leaders believe Orlando's promise in 2017 owes just as much to a collision of existing local expertise with emerging global trends as it does to the realization of plans many years in the making.
Arguably the best example of this alignment is the region's simulation and training industry, which in 2017 looks set to receive a welcome boost in the form of enhanced military spending. In an increasingly uncertain world where readiness is key, simulation will prove a cost-effective means.
"The President was consistent during his campaign that America must rebuild its military. All four services are plagued with aging equipment and serious readiness challenges and face an increasingly complex and uncertain world. I think this translates to an increase in defense spending and potential repeal of sequestration, which will trickle down to the simulation and training accounts, resulting in increased budget authority for the Team Orlando acquisition commands." said Thomas Baptiste, Lt. Gen., USAF (Ret.), President & CEO of the National Center for Simulation.
Other long-held regional advantages also stand to gain in prominence in 2017. Lake County's traditional manufacturing and warehouse strengths will take on greater significance in a world that increasingly prioritizes distance to consumer. A period of unchartered innovation in healthcare will further position Orlando and Lake Nona to develop an unrivaled sports innovation and human performance cluster. Mounting political pressure to achieve cost savings domestically, without sacrificing quality, will allow Seminole County's office corridor to further merchandise its remarkable recent success.
Download the full report Orlando Insight First Quarter 2017 here: