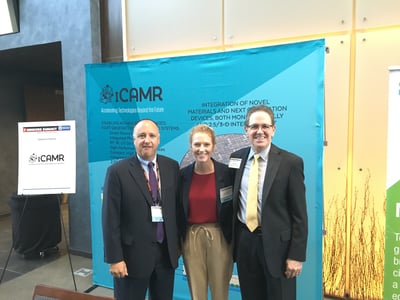 The world's leading experts on smart sensor technology gathered in the Orlando region, for the first time, for the 2015 TSensors Summit held at the Florida Hospital Nicholson Center. The smart sensors industry is expected to be worth more than $154 billion by 2020 and is forecasted to increase the global economy by $18 to $32 trillion in the next 10 years.
The summit brought academics, researchers and leaders in the sensor and MEMS (microelectromechanical systems) industries together to discuss how technology can address pressing global issues, like hunger and pollution, by connecting trillions of sensors that support the Internet of Things (loT).
The event gets its name from a prediction that a trillion sensors will be in use by 2030. Speakers included entrepreneur Janusz Bryzek, who founded the Trillion Sensor Initiative and Supratik Guha, director of the Nanoscience and Technology Division at the U.S. Department of Energy's Argonne National Laboratory.
"Hosting the TSensors Summit here in Central Florida is a two-fold opportunity – it gives us the chance to showcase the talent we already have in the region to some of the leading sensor technologists in the world and it will introduce Central Florida to the future of trillion sensor applications. We couldn't be more excited," said Chester Kennedy, chief executive officer for the International Consortium for Advanced Manufacturing Research (ICAMR).
ICAMR, currently under construction in Osceola County, will be housed in the Florida Advanced Manufacturing Research Center. The industry-led consortium dedicated to creating the type of research facility companies need to develop smart sensor technologies, is scheduled to open in 2017.
"This is a fascinating educational opportunity that also solidifies our status as a leader in the smart sensors, photonics and optics arena that is sure to lead the world in solutions-oriented technology," said Rick Weddle, Orlando Economic Development Commission president and CEO.
Sponsores of the summit included the International Consortium for Advanced Manufacturing Research, Enterprise Florida, The Florida High Tech Corridor, the University of Central Florida, Applied Materials, and ROHM Semiconductor, to name a few. The Orlando Economic Development Commission was also a proud partner.