Released this week, new Gross Domestic Product (GDP) estimates at the regional level confirm an Orlando economy whose growth accelerated in 2014.
The region remains the 31st largest regional economy in the United States, with current-dollar GDP approaching $116 billion. However, real GDP (adjusted for inflation) expanded by 3.4 percent in 2014 – almost one and a half times the collective 2.3 percent growth experienced by all U.S. metropolitan areas. The increase extended Orlando's recent growth trajectory following a 0.9 percent increase in 2012 and a 2.3 percent increase in 2013.
Since 2009, when the national recession ended, Orlando's economy has steadily expanded. Goods and services produced in Orlando are up 16 percent in six years from $100 billion in 2009.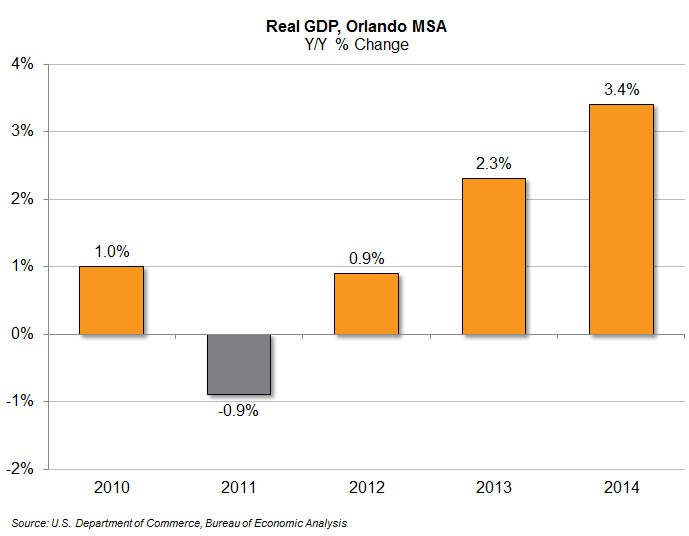 Growth Widespread Across Sectors
Orlando's expansion in 2014 was led by several industry groups: professional and business services, wholesale and retail trade, and finance and insurance. Wholesale and retail trade was the single largest contributor to growth following a rebound in population, while important pockets of strength remained in the region's critical tourism and healthcare industries. Minor contractions in the government and natural resources sectors subtracted nominally from total growth.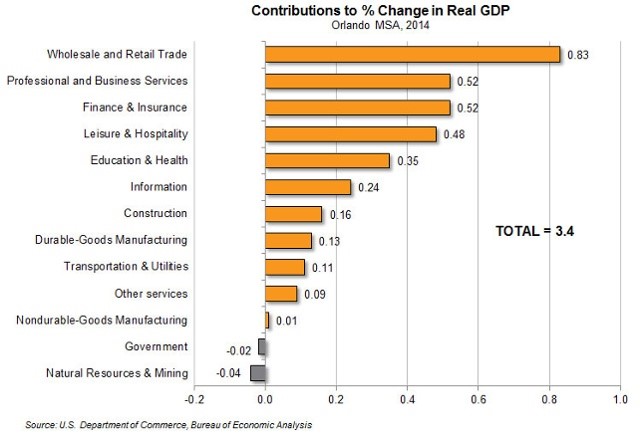 A Leader Statewide
Within Florida, Orlando's growth rate was the highest.
Of Orlando's comparison regions – those deemed by the EDC's Orlando Economic Foum to have similar economic characteristics, competitive traits or desirable qualities – Orlando's growth rate in 2014 was surpassed by just four other regions around the country. Austin and Portland both received bounces from manufacturing, Denver rode an energy wave that impacted much of the Western United States, and Nashville's smaller economy turned a smaller absolute gain into a larger growth rate.