Orlando's economy grew the most of any major metropolitan area in Florida in 2015, according to new GDP estimates released earlier this week.
Almost $7 billion was added to Orlando's GDP between 2014 and 2015, bringing the value of all goods and services produced in the region to over $121 billion. That meant the region remained the 31st largest regional economy in the United States, and the third largest in Florida after Miami and Tampa at $318 billion and $134 billion, respectively. New York was again by far the nation's largest economy at $1.6 trillion.
In growth terms, however, Orlando's real GDP (adjusted for inflation) expanded by 3.5 percent in 2015 – significantly higher than the collective 2.5 percent growth experienced by all U.S. metropolitan areas. Florida's other major regions - Miami (3.3 percent), Tampa (2.7 percent), and Jacksonville (2.6 percent) - all likewise exceeded the collective rate but by lesser margins than Orlando. It was the second year in a row Orlando GDP grew by 3.5 percent.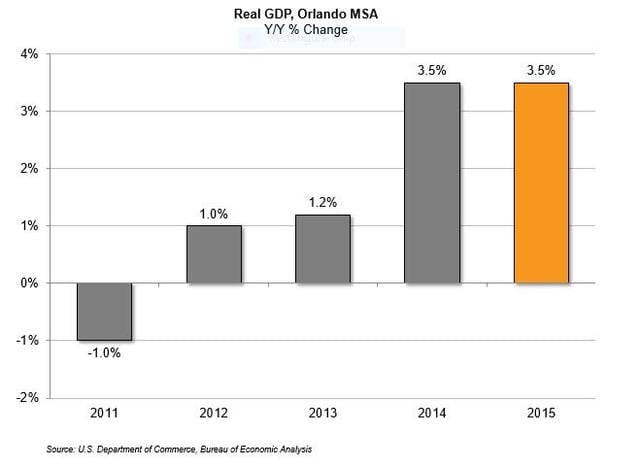 Orlando was the 72nd fastest-growing of the nation's 382 metropolitan areas, and the 18th fastest-growing of the 50 most populous. The list of fastest-growing large economies in 2015 was dominated by regions benefitting from either the ongoing tech boom, such as San Jose, Raleigh and Austin, or from energy-related gains that have since waned, such as San Antonio, Houston and Denver.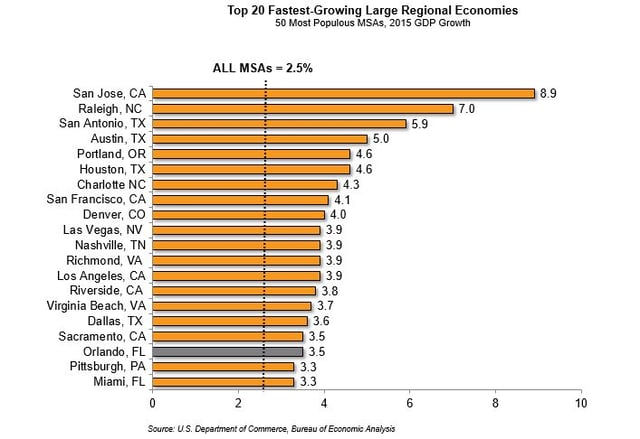 Orlando's expansion in 2015 was led by the same industry groups currently driving the region's strong employment growth: professional and business services, trade, healthcare, and construction. Professional and business services, which includes parts of the tech sector as well as back-office operations, was the single largest contributor to growth on the heels of sustained regional corporate expansion and relocation, while ongoing population growth ensured important pockets of strength continued in the region's retail and healthcare industries. Major infrastructure investments and a sustained rebound in new home building helped expand construction's contribution.