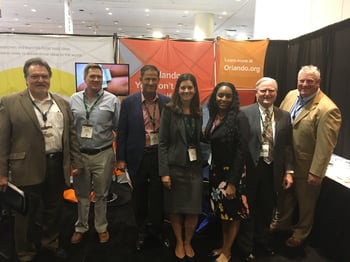 The Orlando Economic Partnership business development team attended SEMICON West July 11-13, 2017 in San Francisco in partnership with BRIDG, the world's first industry-led smart sensor consortium located in Osceola County. The team gained more than 20 leads interested in partnering with BRIDG and or opening an office in Orlando. The Orlando Economic Partnership also met with two tech-related companies based in the Silicon Valley that may have projects which could generate approximately 1,000 jobs for the region over the next several years.
SEMICON West is a leading industry conference for the global electronics supply chain. Companies from around the world attend to connect and showcase leading-edge technical and business programs for every segment of the industry—from the Internet of Things (IoT) to Smart Manufacturing.
Elizabeth Godwin and Dave Porter from the Orlando Economic Partnership traveled to SEMICON with partners including co-chair Sean DeMartino of Coastal Construction, Ed Schons of The Florida High Tech Corridor and UCF, Chester Kennedy of BRIDG, Joel Gunter of Enterprise Florida, Jeff Patterson of Foundry Commercial and Commissioner Arrington of Osceola County. The Partnership teamed up with BRIDG and imec, as well as sponsors including Florida High Tech Corridor, Skanska, and Osceola County, to host a reception for targeted c-suite executives in the sensor development and advanced manufacturing sectors.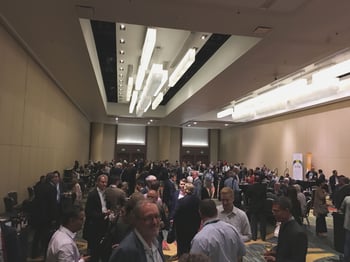 "Our reception was a huge success, with over 300 people in attendance," said Chester Kennedy. "The conversations ranged from Orlando's commercial assets to the benefits of doing business in Orlando and Osceola County. Engaging this high-level audience is a crucial component to growing the cluster of high-tech manufacturing in our region."
During the conference, St. Petersburg-based microchip manufacturer, Aurora Semiconductor, announced its partnership with BRIDG and its plans to utilize the benefits of the consortium to develop an improved method for storing additional data and information on smaller chips.
"We are tremendously excited about our strategic alliance with BRIDG," said Aurora CEO Gary Breton said. Breton explains that BRIDG's ability for fabrication at the microscale is critical to the development of its latest technology.
The Orlando Economic Partnership has exhibited at SEMICON West for the past 3 years, since 2015. Contact us to learn more about Orlando's assets for advanced manufacturing companies and partnership with BRIDG.