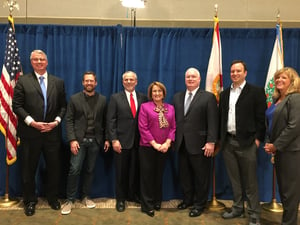 The Orlando region's expanding economy, recent job growth and burgeoning tech industry were the focuses of the 2016 Orange County Economic Summit hosted by Mayor Teresa Jacobs at the Orange County Convention Center. The Summit, now in its fourth year, provides an annual report on the economy and highlights strong business sectors and growing industries. More than 650 citizens and community leaders attended this year's event.
Orlando Economic Development Commission President and CEO Rick Weddle shared the EDC's ideas on "positioning for the future" which included strategic initiatives to create more jobs, increase payroll and further prosperity for the region. "We are once again one of the country's leading growth centers, and that's creating opportunity for all of us," Weddle said. "In fact, Orlando is growing closer to double the rates of population growth in the U.S. We are the second fastest growing large metropolitan area in the nation over the last few years."
Sean Snaith, Ph.D., director of the University of Central Florida Institute for Economic Competitiveness, shared his expertise on the economy not just in Orlando, but also from a world perspective. "The U.S. economy is the best in the world right now. We're poised for future success," he said.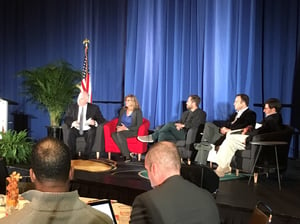 Retaining Orlando's high quality labor pool and the status of the region's tech ecosystem was the topic of a panel discussion moderated by Jerry Ross, executive director of the National Entrepreneur Center. The panel featured experts from Orlando's tech scene including, Donna Mackenzie, executive director of Canvs, Starter Studio and FireSpring Fund; Josh Brown, founder and CEO of PowerDMS; Phil Dumas, founder of Unikey Technologies; and Richard Licursi, managing partner and co-founder of venVelo. The panel highlighted the importance of support for entrepreneurship in the region, what the business community can do to better support local startups and how the community as a whole can establish Orlando as a tech hub.
Immediately following the Economic Summit, Orange County its inaugural Florida TechMatch, a unique matchmaking event pairing emerging digital media and tech companies with established corporations in order to collaborate, innovate and progress ideas.
Orange County partnered with the Orlando EDC, the Orlando Tech Association, Orlando Sentinel, the Hispanic Chamber of Commerce of Metro Orlando, Echo Interaction Group and Orlando Trep to host this first-ever B2B matchmaking event in Orlando.
Events like the Economic Summit and the Florida TechMatch bring awareness to local leaders on the state of Orlando's economy, as well as next steps for future growth.