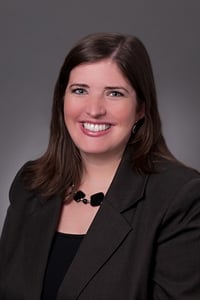 Jennifer Wakefield, APR, vice president of marketing and communications for the Orlando Economic Development Commission, has been selected as a winner in the Orlando Business Journals' 40 Under 40 awards, for her significant achievements in her field of marketing and communications.
"The Orlando EDC is excited that Jennifer's hard work, skill and expertise in developing marketing strategies for economic development are being recognized by the Orlando Business Journal," said Rick Weddle, president and CEO of the Orlando Economic Development Commission. "She is a proven practitioner of public relations and under her leadership the Orlando EDC has made great strides, particularly as we promote our new business brand, and as we continue to aggressively attract, retain and grow jobs for the Orlando region."
Jennifer has sixteen years of experience in marketing and communications and holds her accreditation of public relations (APR), which signifies a high level of professional experience, competence and ethical standards. She has extensive experience in strategic communications planning, executive consulting, proactive issues management and media relations. Results of her media relations work have appeared in New York Times, Wall Street Journal, Business 2.0, CNET, BNET, CNN.com, USA Today, Delta Sky, Lufthansa Exclusive, AirTran GO, as well as regional, national, international media outlets and industry trade publications.
Jennifer joined the EDC in 2006 as the director of public relations and was promoted to her current position in 2012. Prior to her work at the EDC, Jennifer worked as the public relations manager for METROPLAN ORLANDO - the regional transportation planning agency - where she was responsible for media relations, marketing and public involvement.
The Orlando Business Journal officially announced the winners at an awards reception at Audi North Orlando in Sanford.