The Orlando Economic Development Commission received two Bronze Excellence in Economic Development Awards for its 2015 projects in the categories of Video/Multimedia Promotion and General Purpose Website for communities with populations greater than 500,000 from the International Economic Development Council (IEDC).
The awards were presented at a ceremony on Tuesday, October 6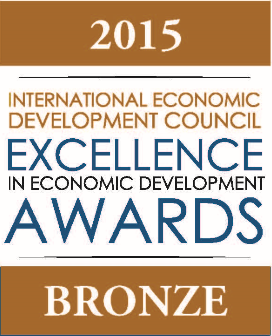 , during the 2015 IEDC Annual Conference, which was held October 4-7, in Anchorage, Alaska.
"From localized community projects, to large scale endeavors, economic development efforts have played a vital role in the global economy," said JoAnn Crary, CEcD, Chair of the International Economic Development Council and President of Saginaw Future Inc. "As we address new and longstanding challenges, these efforts continue to take on even greater importance. The award serves as a salute to pacesetting organizations like the Orlando Economic Development Commission for leading the charge."
Orlando is known around the world for its theme parks. That's why it was time to tell the other half of Orlando's story; the part that highlights the fact that Orlando is more than just a great place to vacation. Orlando is home to thinkers, dreamers and leaders.
The commercial piques the interest of viewers and entices them to learn more about Orlando and discover the "other half" of the story. The purpose is to also inspire pride and create community ambassadors that can help educate local, regional, state and even national audiences.
The Website includes a new, custom look with a responsive and mobile-friendly design, interactive tools like GIS mapping, a one-stop data center with easy download capabilities, company success stories, a news blog, and connectivity with social media. Everything target audiences of C-suite executives and site location consultants look for.
Recipients of IEDC's Excellence in Economic Development Awards demonstrate to an experienced panel of judges that they are at the forefront of the economic development profession. They are recognized as the world's best economic development programs and partnerships, marketing materials, and the year's most influential leaders. These awards honor organizations and individuals for their efforts in creating positive change in urban, suburban, and rural communities.