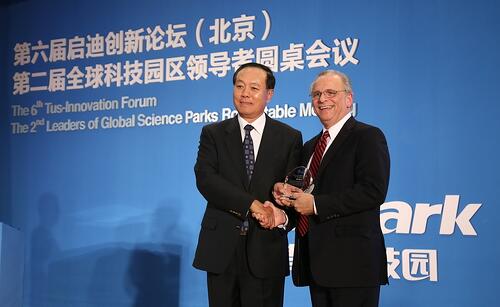 As president of the International Association of Science Parks and Areas of Innovation (IASP), the Orlando EDC's Rick Weddle traveled to China this month to help one of the world's largest university science parks, TusPark, celebrate its 20th anniversary.
Weddle spoke to more than 400 guests from around the world, including government and university officials and science park managers and companies, about Orlando's experience with growing its Central Florida Research Park and innovation economy. He also presented Mei Meng, Chairman of TusPark, with an IASP Award for Outstanding Leadership in the science park movement during the opening ceremony.
Weddle also was a panelist discussing the role of IASP and science parks for a taped television show on China Central Television that is scheduled to air later this year.
Learn more about IASP on its website.