The Orlando EDC took the new regional branding campaign "Orlando. You don't know the half of it," to New York City in March during a three day business and media focused blitz that included discussions with key site selector consultants and top-tier news outlets.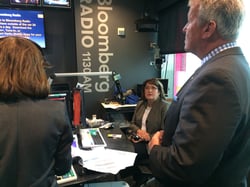 EDC President and CEO Rick Weddle, Orange County Mayor Teresa Jacobs, City of Orlando Mayor Buddy Dyer and EDC Branding Committee Chairman Ken Potrock, of Disney, met with reporters and editors at nine national news organizations including Bloomberg Advantage, The Street, and the New York Times, to name a few, highlighting the region's transformation from a tourism hot spot to high-tech business hub. "Our goal is to increase the number of jobs we have here and to increase the wages we have here," said Mayor Jacobs.
Through a series of briefings and meetings, another group of Orlando regional industry leaders and government partners made a total of 94 connections with site location consultants, business groups and individual businesses in New York and New Jersey. The goal is to see a high percentage of those connections result in companies locating or expanding in Orlando.
"So many people don't know about our modeling, simulation and training, or our life sciences or our digital media industries," said Mayor Dyer. "Some of the site selectors are saying you need to pitch medical city, soccer and Sunrail and you'll have everyone interested."
Research revealed that Orlando only makes it onto the "short list" for consideration as a business location about one-third of the time. The branding effort aims to get Orlando onto the "short list" more often.