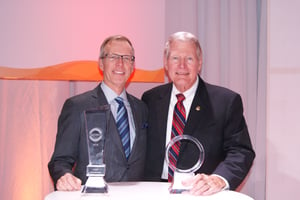 The Orlando Economic Development Commission (EDC) hosted its annual James B Greene Award Dinner on Tuesday, May 17 to honor Lars Houmann and Randy Berridge. The event generated a record crowd with 700 seats.
The James B Greene Award was first presented in 1990 and it recognizes an individual whose work has contributed substantially to the economic prosperity of the region. Houmann, this year's recipient, is the president and CEO of the Florida Division of Adventist Health System.
"Lars has set the standard for collaboration and innovation," said host and Orlando EDC Chair David Fuller. "And I should add, he's set the bar exceptionally high when it comes to building our community."
After receiving his award, Houmann said, "I am pleased if whatever my example can provide through this evening's recognition might inspire people and organizations to do more to improve life and bring greater prosperity to others."
You can view the Houmann tribute video here.
Berridge was also honored during the event, receiving the Orlando EDC Chairman's award. This award recognizes a long-time contributor to the work of the Orlando EDC. Berridge has worked as the president of the Florida High Tech Corridor Council since 1996. You can view the Berridge tribute video here.
"At the core of Randy's work is a commitment to economic development," said Fuller. "Whether it's cultivating a high-tech workforce or providing small business leaders with tools to help them grow. Randy is constantly thinking up new ways to connect people, businesses, and ideas with three of the best research universities in the state."
The evening included the Boy Scouts of America Color Guard, a performance of the National Anthem from the Orlando Repertory Theater's Power Chords, a dinner and videos featuring the work of Houmann and Berridge. You can see photos from the event here.