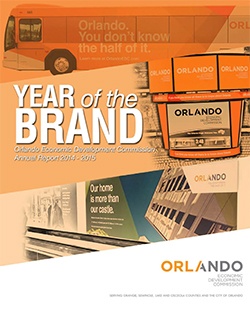 The 2014-2015 annual report highlights the Orlando Economic Development Commission's (EDC) biggest accomplishments, proudest achievements and outstanding moments as it takes a look back at the "Year of the Brand." From messaging to marketing, and partnerships to collaboration, the annual report details the Orlando EDC's relevance, results-driven focus and how it impacts the positive economic growth and future of the region.
The report showcases the business branding campaign, "Orlando.You don't know the half of it." and outlines project completion, job creation and new payroll in the region. The EDC played a key role in working with 34 companies that projected to create up to 2,591 jobs over the next three years with a total payroll of $144,409,417. Companies committed a capital investment of $287,529,500 in the region and leased or purchased 1,325,876 square feet of space. In addition, the average salaries of EDC related projects increased by 31 percent over the regional average over last year.
The award-winning branding campaign took home top honors from prestigious organizations like the International Economic Development Council (IEDC), Florida Economic Development Council (FEDC), and the National Telly Awards, which recognized the branding commercial and website.