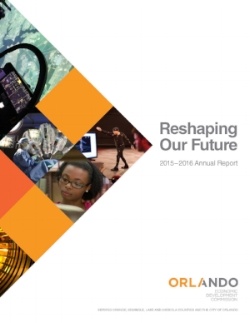 The Orlando EDC showcased its best year ever in the 2015-2016 annual report "Reshaping Our Future." The year brought many historic achievements for the EDC, from completing projects that resulted in over 5,600 projected new jobs created by 30 different companies to the highest attendance ever at its yearly signature events – the James B. Greene Award Dinner and the BBQ on the Boulevard.
Thanks to its public and private sector partners, the EDC delivered the strongest year in its 39-year history, exceeding job number goals by 57 percent and total payroll by 41 percent. Some highlights from the year's economic impact include:
30 completed projects

5,646 projected new jobs

$197 million in total capital investment

$47,843 average wage

745 permitted film production days

107 non-permitted film production days
In pursuit of businesses in targeted industries, the EDC Business Development team hosted 67 missions, events and delegations around the world. The team generated 124 leads, 68 prospect visits to the Orlando market and 73 business retention and expansion visits during the 2015-2016 fiscal year.
As a result of the support from businesses around the region, the business branding campaign, "Orlando. You don't know the half of it." saw strong results in its second year. More than 90 public and private organizations offered their resources to spread the branding message through their communication channels.