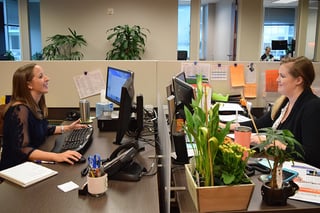 Business is going on as usual but in a revamped location. In early September, the staff of the Orlando Regional Chamber of Commerce and Leadership Orlando moved into the permanent home of the Orlando Economic Partnership on Pine Street in downtown Orlando.
The Chamber occupied the iconic building on NE Ivanhoe Boulevard since 1968. During that time, a number of changes swept through the city including the construction of the adjacent Interstate 4, explosive growth of high-rise developments in the city's core, and the completion of Sunrail's Phase I.
The land is owned by the City of Orlando and the building was leased to the Central Florida Partnership for 50 years for $1 per year. The Chamber paid for the construction of the building and has been good stewards of the property ever since, maintaining its appearance and functionality.
The move is one of the final steps in completing the merger of the Central Florida Partnership and the Orlando Economic Development Commission. The new combined organization, the Orlando Economic Partnership, works to provide the Orlando region with quality jobs, economic growth, broad-based prosperity and a sustainable quality of life.
The Partnership will conduct all business at 301 E. Pine Street, Suite 900, in Orlando. The location, recently renovated to accommodate the needs of the new organization, includes collaborative work spaces, open staff workstations and a new meeting room designed for large groups.

Renovated 301 E Pine Street office photos: