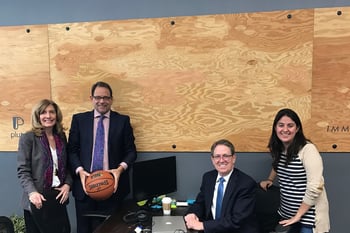 The Orlando Economic Partnership (Orlando EP) business development team met with business owners and site selection consultants in the San Francisco Bay and Silicon Valley area as part of a strategic mission to market Orlando as a business location. The team targeted companies in the innovative technologies and advanced manufacturing industries and met with sixteen companies, including two site selection groups, and identified eight prospective expansion projects for the Orlando area.
"Our teams were unified and well prepared to discuss Orlando's superior quality of life, passionate creative culture, and qualified talent pipeline," said Roseann Harrington, co-chair of the Orlando Economic Partnership Business Development Committee and vice president of marketing, communications and community relations at OUC – The Reliable One. "We were able to engage in one-on-one meetings with CEOs from start-ups as well as Fortune 100 tech companies. The success of this mission illustrates the strength of the branding campaign and the increasing number of companies who now place Orlando on their short list."
Other partners who participated in the mission included representatives from the University of Central Florida, Enterprise Florida, and Duke Energy. Each highlighted the strength and unity that exists within the Orlando business community.
The Orlando EP also worked with BRIDG, the world's first advanced manufacturing research consortium located in Osceola County, to market Orlando to photonics and sensor development companies during the large industry tradeshow, Photonics West. As an example of an organization who chose Orlando, BRIDG helped to market Orlando as a business destination to other prospective advanced manufacturing companies.
San Francisco and Silicon Valley is a major target for the Orlando EP due to its concentration of tech companies. Compared to Orlando's rapidly growing tech ecosystem and affordable operating costs, San Francisco is a target for companies looking for affordability, a talented workforce and diverse community.
"Orlando consistently changes perceptions in every meeting," said Dave Porter, Senior Vice President of Business Development for the Orlando EP. "That's why it's so important to implement these strategic missions. Companies need to know everything that Orlando has to offer them as an excellent location for business in order for us to successfully bring more high-paying jobs to Orlando."
The Orlando EP business development team's next mission will be to the greater New York City region, focusing on corporate headquarters and regional offices.