The Orlando MSA added 11,000 jobs in March, keeping year-over-year employment gains well above state and national averages. The unemployment rate fell 0.3 percentage points to 5.1 percent.
Payrolls Ramp Up
Orlando extended its run as Florida's leading growth center in March, posting a net gain of 11,000 jobs. 50,200 jobs have been added in the last year, more than any other Florida region and similar to the combined total of Tampa and Jacksonville. Payrolls are up 4.6 percent year-over-year, higher than the 3.8 percent recorded statewide and second only in percentage terms to the much smaller Naples market.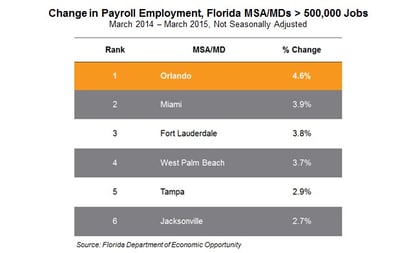 As a sign of Florida's recovery, all 22 metro areas in the state posted year-over-year gains in March. However, entering the second quarter of 2015, Orlando continues to outperform on both short and long-term momentum.
Local year-over-year job growth has now exceeded the nation's rate for 41 consecutive months. Orlando has been among the United States' top five regional job creators since early 2014.
Financial, Business Services Join the Party
Recent hiring by area newcomers Deloitte and Verizon is increasingly showing up in employment gains, with the business services and financial sectors contributing 30 percent of the net employment gain in March.
Elsewhere, gains continue to be broad-based, with most major industry sectors reporting both monthly and year-over-year gains. Large infrastructure projects are maintaining construction's status as the area's largest mover, while expansion of the region's visitor industry continues, growing 2.2 percent in March and 6.2 percent year-over-year.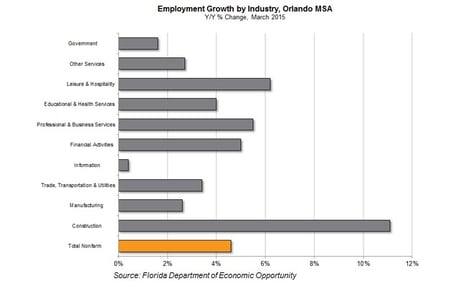 Gains Widespread
All four counties within the region saw similar declines in their unemployment rate in March. Lake, Orange, Osceola and Seminole Counties each fell 0.2 percentage points to 5.5, 5.0, 5.8 and 4.9 percent, respectively. Seminole's rate fell below 5.0 percent for only the second time in almost 7 years.
Taken together, regional unemployment has now fallen by almost 13,000 from one year ago.