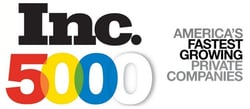 This year, a total of 61 Orlando-area companies were featured on the Inc. 5000 list, and six Orlando companies landed on the Inc. 500 list. One Orlando-based company, United Commerce Group, made the top 100 ranked companies.
The 2016 Inc. list ranks the fastest-growing privately held businesses in the nation based on percentage revenue growth, when comparing 2012 to 2015.
The 2016 Inc. list included 11 more Orlando-area companies than the 2015 Inc. 5000 list, which totaled 50 companies.
Two of the 2016 Inc. ranked Orlando-area companies included Orlando EDC investors: RP Funding ranked No. 1670 and Engingeering & Computer Simulations ranked No. 2995.
View the full Inc. 5000 list here.