The next time you head to the Orlando International Airport for business or leisure travel, be sure to look for the "Orlando. You don't know the half of it." brand. As an Orlando EDC partner, the Greater Orlando Aviation Authority (GOAA) offered to display the business branding in various locations in the airport including the tunnel and baggage claim.
Orlando International Airport averages over 112,000 passengers every day and is the 13th bus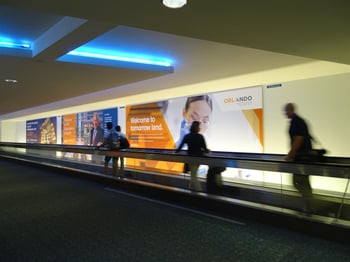 iest airport in the United States.
Seventy-nine other Orlando area companies are also supporting the "Orlando.You don't know the half of it." branding effort either financially, through in-kind or both.
"We are so grateful to GOAA for placing Orlando's business branding in the airport where literally millions of people from all over the world will get the opportunity to see it," said Orlando EDC president and CEO Rick Weddle. "The purpose of this effort is to get more "at-bats" with companies considering potential places to locate or expand their businesses and this will give us the opportunity to showcase all of the amazing assets we have in our Orlando region before a global audience."
The "Orlando. You don't know the half of it." campaign kicked off in December of 2014 and has won the National Bronze Telly award in the commercial category. The website and commercial has also won awards from the Florida Economic Development Council and the International Economic Development Council.
For more information on how to get involved go to www.orlandoedc.com/branding.
See who else is joining in the effort to spread the word about the other half of Orlando.