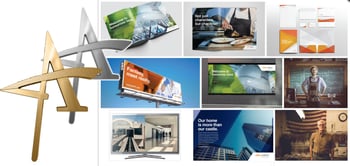 The Orlando regional business campaign, "Orlando. You don't know the half of it.®" took home three gold and two silver ADDY Awards from the Orlando Advertising Federation at a ceremony honoring the region's most creative and effective advertising programs.
The Orlando Economic Development Commission's agency of record, Anson-Stoner, submitted entries and took home honors in the :60 regional/national TV spot category as well as the full page print ad and magazine spread titled "Welcome to Tomorrow Land." Additional prizes came in the regional/national integrated campaign and :30 TV spot categories. Anson-Stoner won more gold Addy awards than any other agency for its work on the EDC's and other client campaigns.
The regional business branding campaign aims to better inform out-of-state CEOs, site location consultants and other business location decision makers on Orlando's many assets beyond the city's world-famous tourism sector. It highlights Orlando's thriving technology industries, booming start-up scene, and billions of dollars' worth of real estate development. The idea for the campaign was originated by Orange County Mayor Teresa Jacobs and is now led by Senior Vice President of Marketing & Sales Strategy for Walt Disney Parks and Resorts, Jim Alessandro, who oversees a committee of branding experts from throughout the region to implement the impactful branding campaign.
Regional support, both financial and in-kind, is provided by various public and private partners, who champion the campaign by offering their resources, displaying the ads in their various venues and spreading the message through their communications channels. Here's a full list of campaign partners.
The efforts put forth by the Orlando EDC and its partners during the first year of the brand campaign have resulted in a:
53 percent increase in website visits

50 percent increase in lead generation

Over 22 million paid advertising impressions

69 percent increase in national media stories

The National Telly Award for TV ads, Florida Economic Development Council Promotional Materials Award and International Economic Development Council Bronze Awards for general purpose website and video/multimedia
Find out how you can join the campaign!