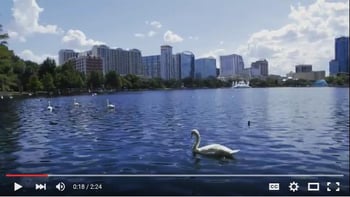 A national audience of millions of sports fans saw the "other half" of Orlando when they tuned in to ESPN and ABC networks to cheer on their favorite teams during the Buffalo Wild Wings Bowl, Russell Athletic Bowl and Cure Bowl games. The commercial highlights Orlando as not only a great place to vacation, but also an amazing place to live, work and locate a business.
This is the second year the Orlando Economic Development Commission (EDC) has partnered with Florida Citrus Sports to bring the branding commercial into homes across the country during these annual bowl games.
Some of college football's top teams in attendance at the Citrus Bowl, including the Michigan Wolverines and Florida Gators, brought in visitors and viewers from across the country, adding to the national reach of the branding commercial.
The campaign has been made possible through the generous contributions of public and private partners which include EDC investors, local governments, and in-kind supporters.