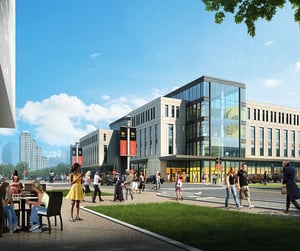 University of Central Florida and Valencia College broke ground on their brand new downtown campus yesterday morning. The campus will be the new home for UCF's social work, legal studies and human communication programs and Valencia's hospitality and culinary programs. UCF and Valencia College are expected to bring over 7,700 students to downtown Orlando. The new campus is scheduled to open in August 2019.
The enthusiasm during the groundbreaking was palpable, with community leaders, industry mavens, alumni, the community of Parramore, public and educational partners all gathering to celebrate a monumental step in this exciting future for Orlando.
Chairman of the University of Central Florida (UCF) Board of Trustees Marcos Marchena kicked off the groundbreaking with the history behind the planning and collaboration that lead to the Orlando downtown campus. Then, Provost and Executive Vice President of UCF A. Dale Whittaker took the stage to talk about the implementation of the new campus. He handed the mic over to Valencia President Sandy Shugart, Ph.D., who referred to Orlando "the city of audacious dreams," identifying Creative Village as just one of the many bold visions coming to fruition in Orlando. Mayors Teresa Jacobs, Orange County, and Buddy Dyer, City of Orlando, both spoke on the opportunities that the new downtown campus will afford the community and the impact the campus will have on many lives. Finally, future student Porcha Jones described her dream, as one of seven daughters, of attending the college downtown to study medicine and getting involved in many extracurriculars. The morning was filled with inspiration, excitement, and hope.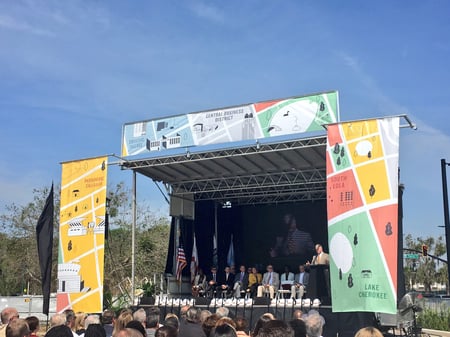 About Creative Village:
These leading education providers will provide an important staple in the Creative Village community. Creative Village will be a 68-acre mixed-use, transit oriented, urban infill neighborhood in the heart of downtown Orlando. Creative Village will be built on the site of the former Amway Center. The vision for Creative Village focuses on creating a true "live, work, learn, and play" urban destination through a development plan that supports a synergistic and dynamic mix of uses including office/creative studios, higher education, PS-8 education, mixed-income residential, retail/commercial and hotel.